As you may know, I am a bit obsessed with eyewear.  I'm so lucky to be in the industry as an optician and be able to see all of the new trends and just fabulous pieces that hit the market.  I'm so excited to share with you today all about the Kendall + Kylie Eyewear line!  Kendall and Kylie Jenner are most definitely known, and this eyewear line really encompasses their carefree and trendy yet sophisticated attitude.  Allure Eyewear, houses this brand and the manufacturing of the line.  They really pride themselves on delivering quality frames, which is something that I am huge on!  When you wear something on your face to see the world and for lack of better words, "live your life," you want the quality to be able to withstand whatever you do day to day.  I was very impressed by the quality and feel of the frames when they arrived to me.  They are very lightweight on and I love the way that they have mixed the acetate (fancy word for the plastic part of the frame) and the metal combination.  It is put together beautifully.  They are really detailed too, everything from the frame front to the end of the temple tip, which features a very comfortable mother of pearl like accent.  I thought that added a nice touch to the collection and is an elegant signature stamp of the Kendall + Kylie line.
Time to style these beauties!
To me, having glasses is such a fun accessory to add to your outfit, whether you need them or not!  This is only a small taste of what there is to offer from the Kendall + Kylie line, and I highly recommend checking it out if you are in the market for a new frame or just want another to add to your current collection.
The "Nadia" frame is such a fun hexagon shape.  I went with a bold dark tortoise for the color.  Everyone should have at least a black and or dark tortoise frame in their collection for that everyday go to bold look.  Don't get me wrong though, this girl loves some funky color too!  This frame has such a retro glamorous feel to me.  I love that it has the metal bridge and metal temples to connect the gorgeous acetate seamlessly.  When you are out in the natural light, I love that this tortoise picks up a bit of yellow in there. It really helps to brighten up the face and the hair too!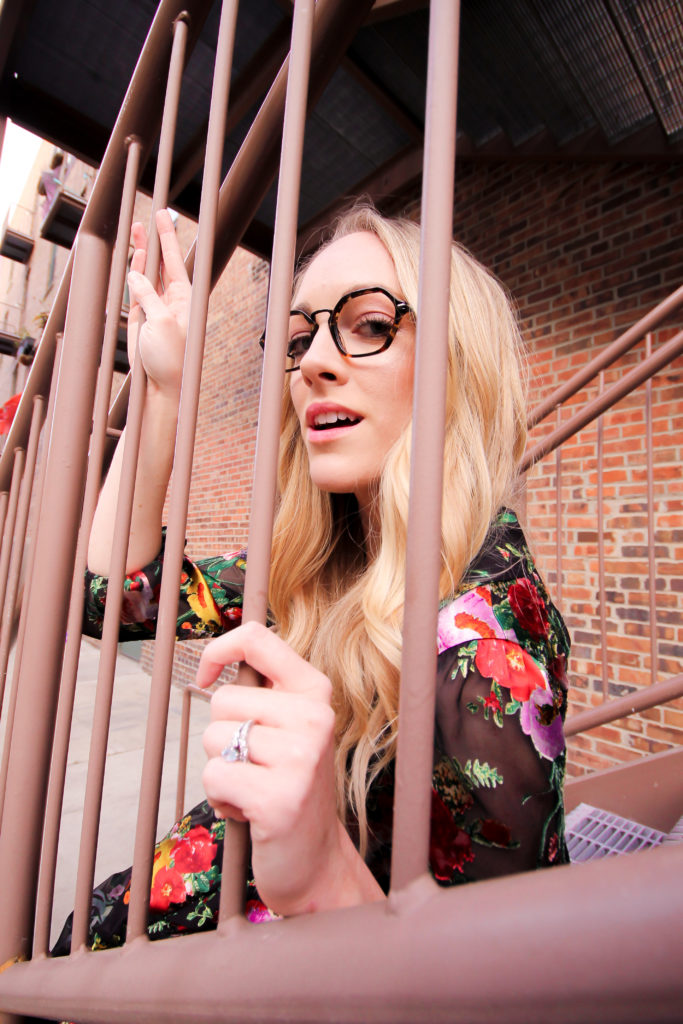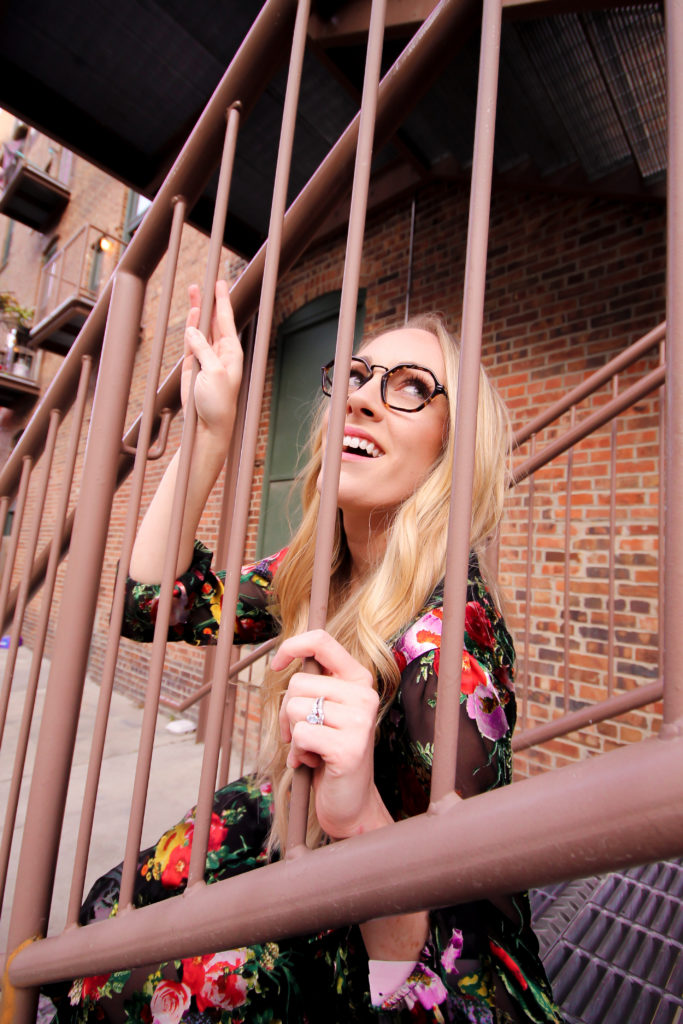 I loved styling this frame with a classic floral dress by Alice and Olivia and added faux fur coat later as it is finally cold out!  I have been obsessed with white booties lately too so when in doubt, just like a tortoise frame, a cute pair of white booties will pair well with any outfit!  The shape is what makes this frame so unique and different from your average everyday tortoise frame.  I encourage you all to step out of your comfort zone always and this is a great frame to dip your toe into something different.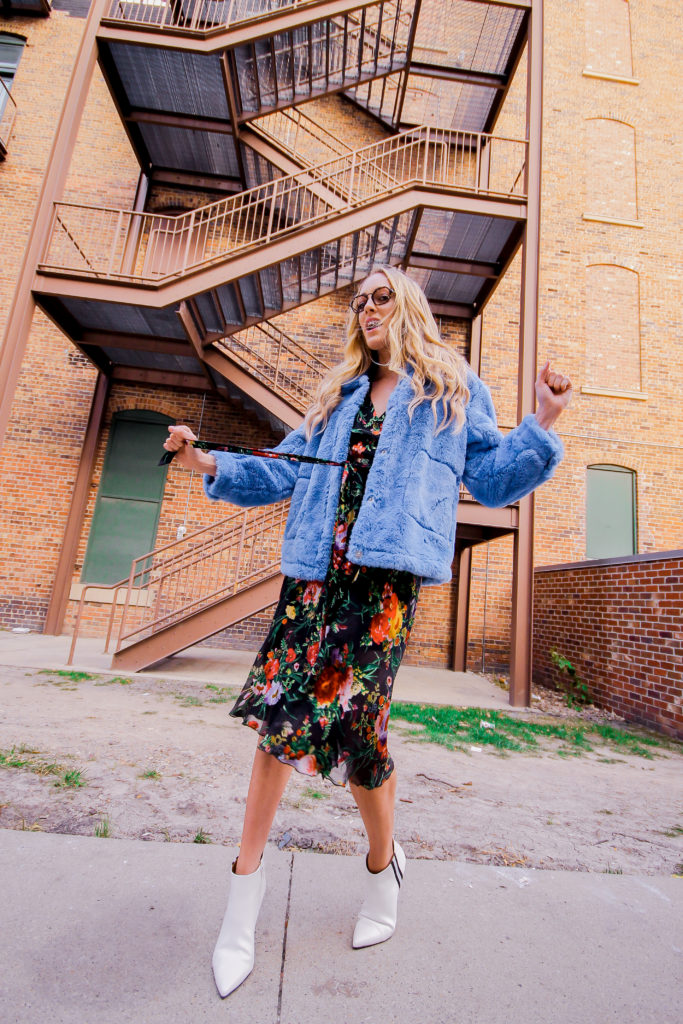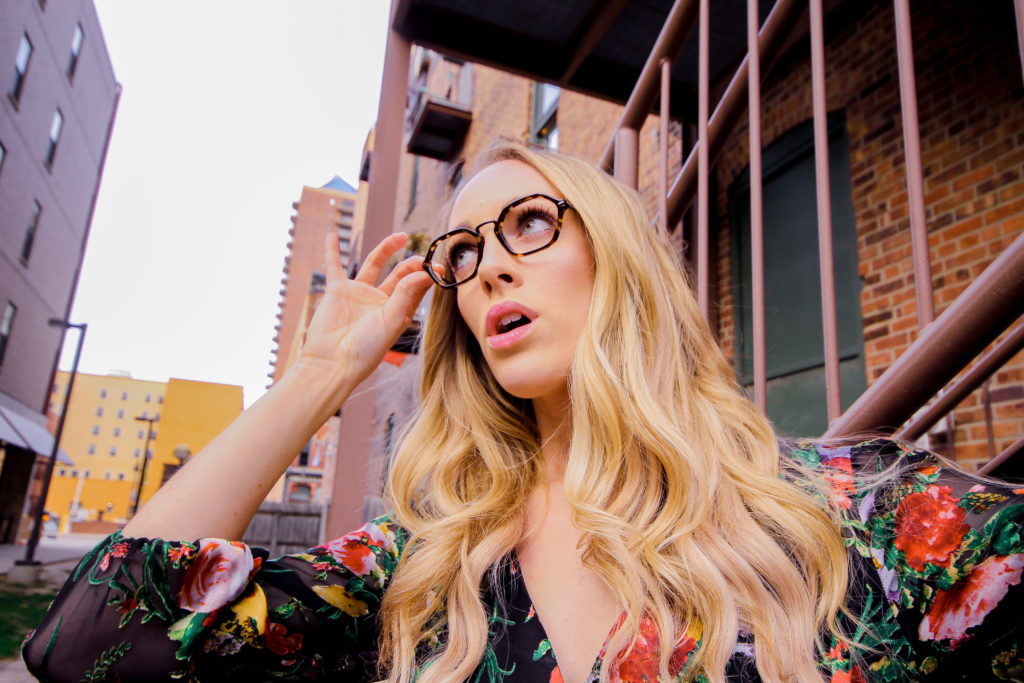 The "Rae" frame in blue was simply so pretty to me. It mixes metals so perfectly. Blue and soft gold is such a perfect combo. This one definitely gave such an elegant feel however I loved pairing it with a more sporty glam look.  This darling round shape is so on trend right now too.  The color is more of a translucent sky blue, which if you are one to not want a heavy dark frame on your face, this is a perfect color.  It won't dare wash your skin out, and it gives the right amount of color to your complexion without being overwhelming.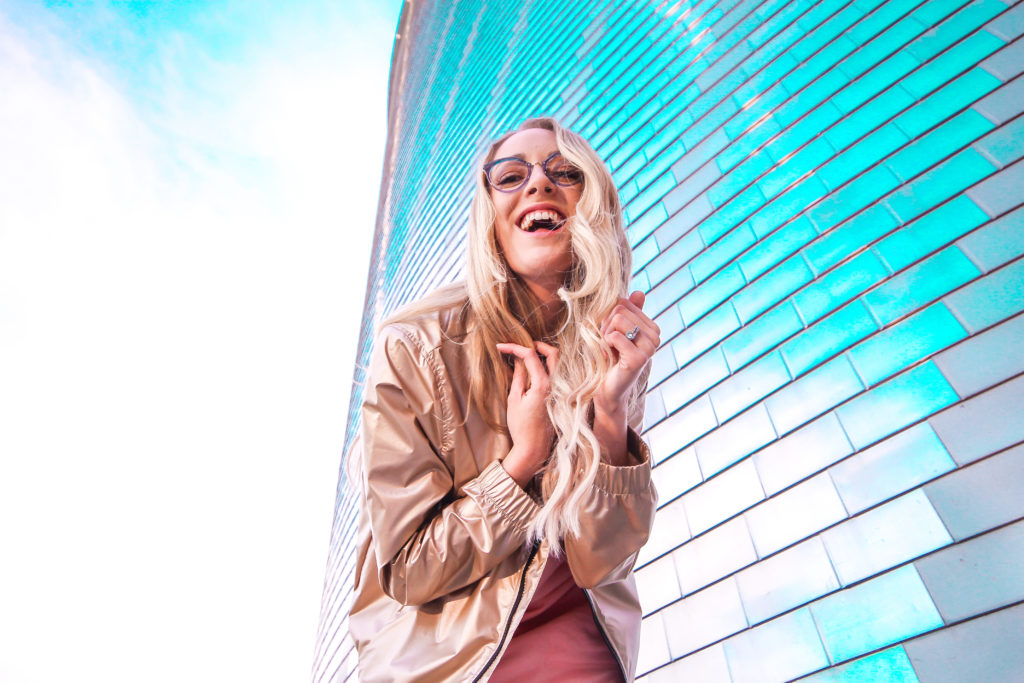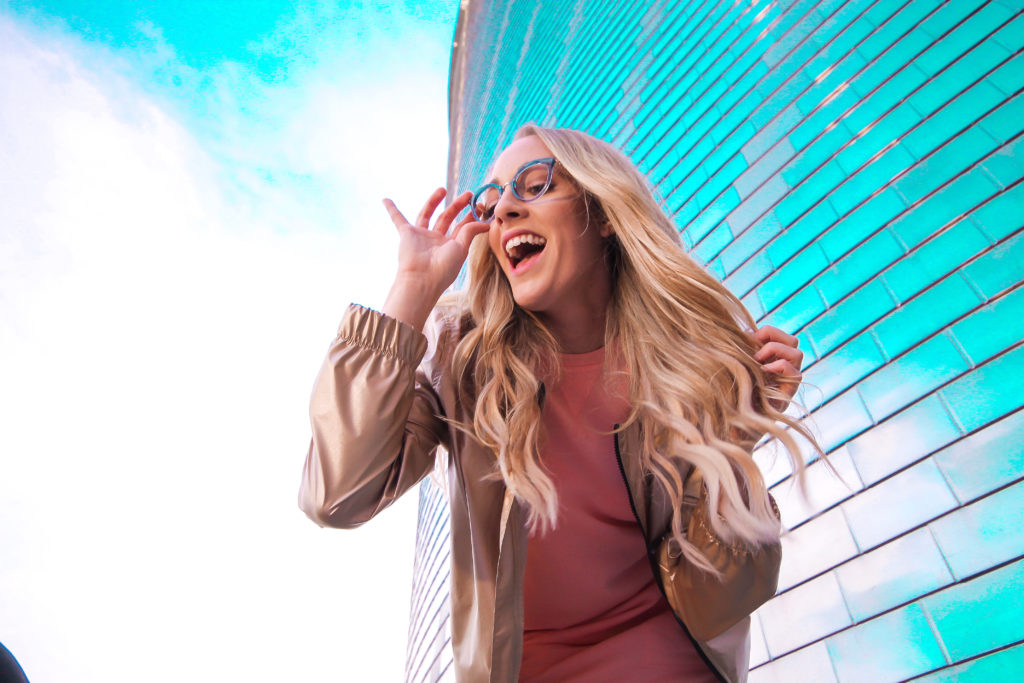 The sky blue color of this frame has the prettiest gold accent behind it therefore, I loved putting it with this metallic gold sporty jacket over a simple cotton athletic dress.  Yes, the white booties had to make another appearance for this photoshoot.  I was getting such pretty in pink and pastel vibes when I saw this frame and wanted to capture all that with this photoshoot.  Dress: Nike, Jacket: Zella, Booties: Abound.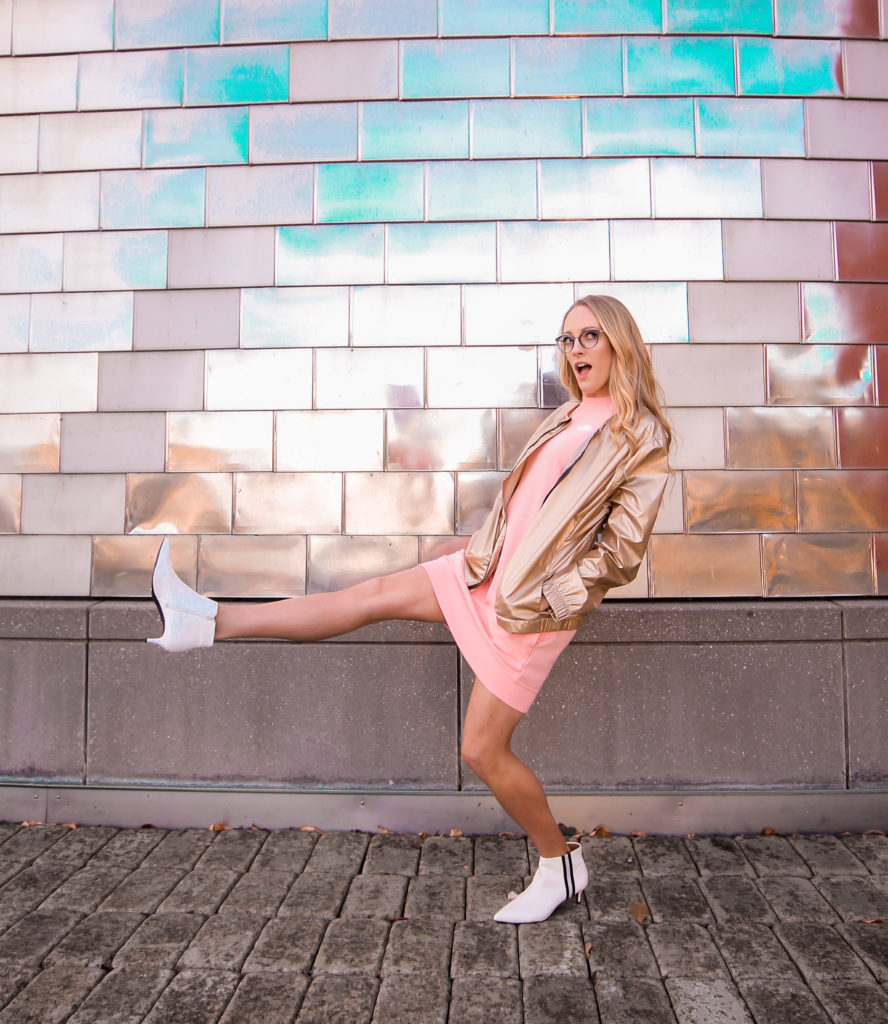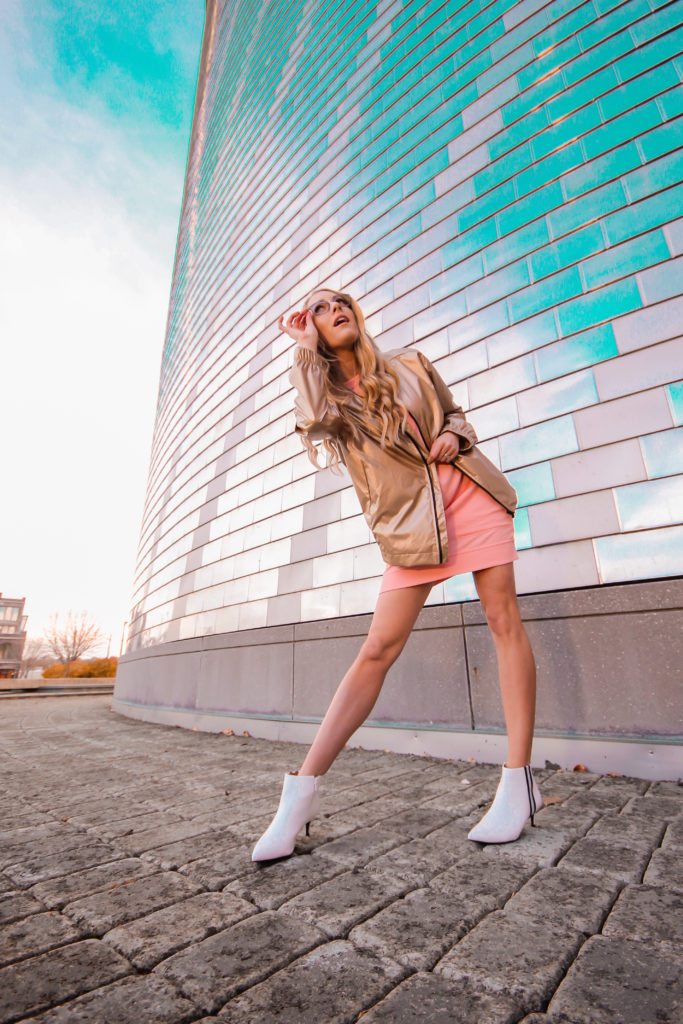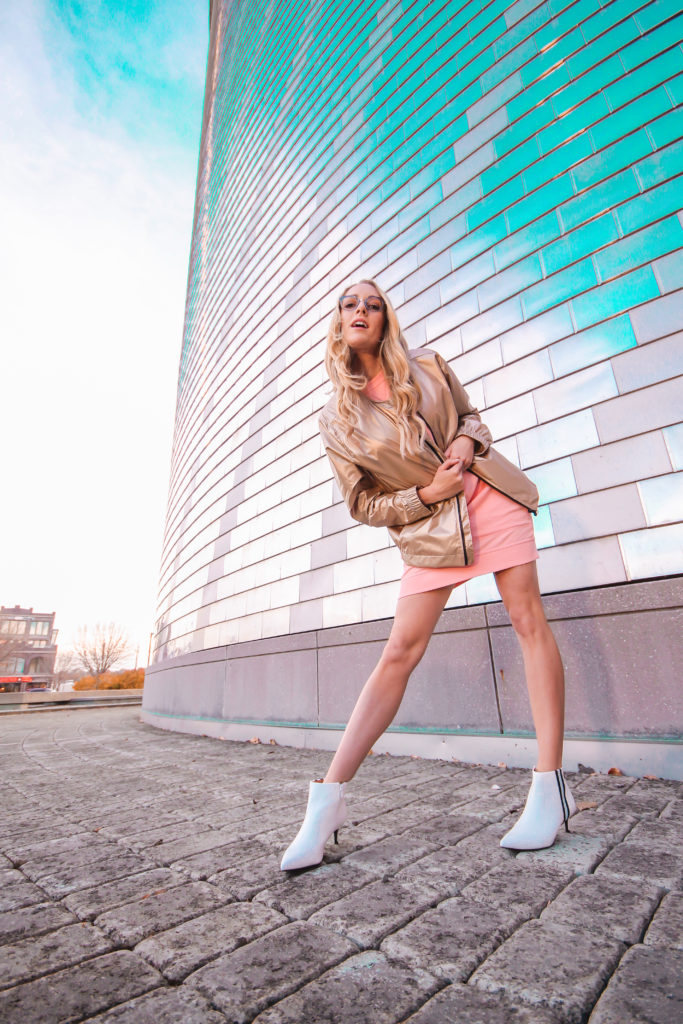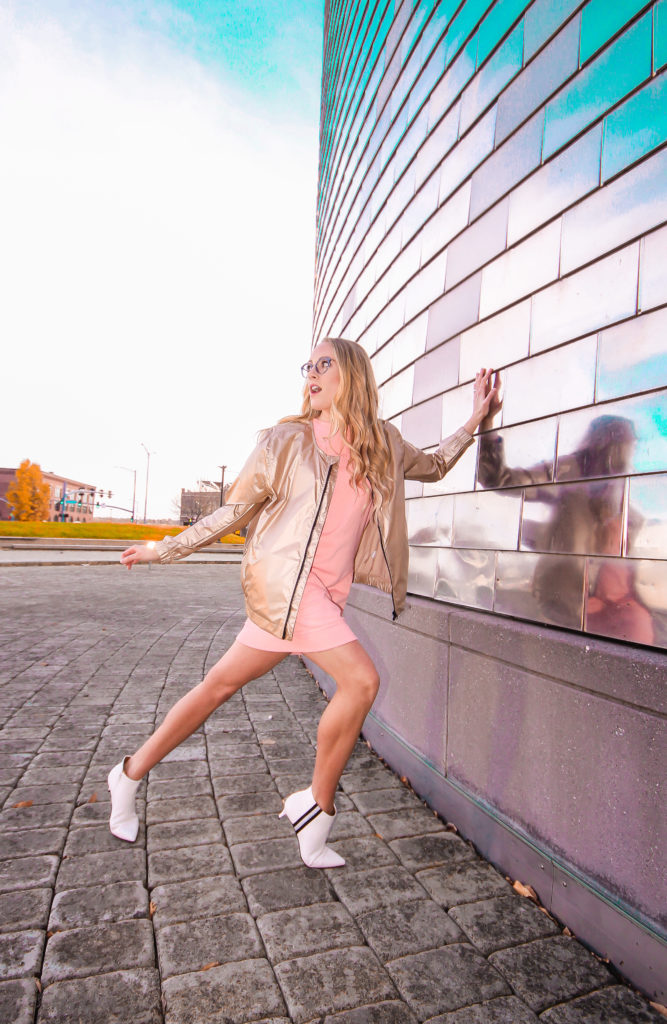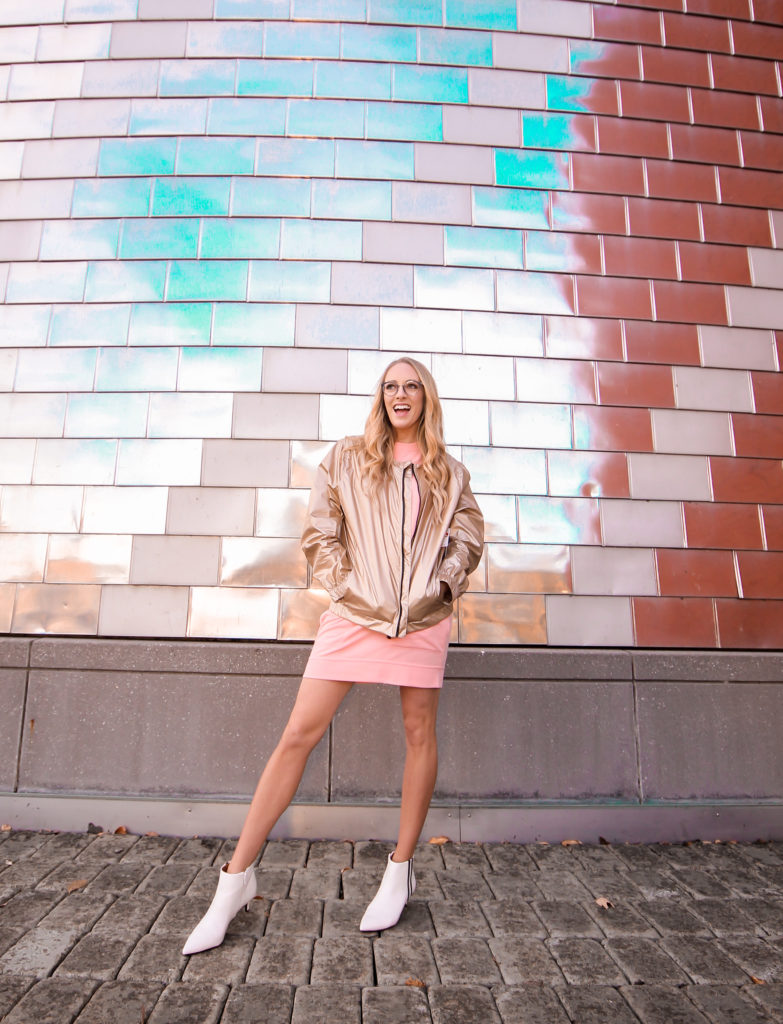 What I also love about this frame is that from a distance you can't even tell that you have glasses on.  Some people desire that more minimal frame look and this one is perfect for that without washing your skin out or being totally rimless, which can sometimes age you if not chosen properly.  That is just this optician's opinion.
I hope that you will check out the Kendall + Kylie Eyewear line!  We haven't even touched on their sunglasses that they have within the extensive collection.  Stay tuned, maybe a post down the road will feature just that!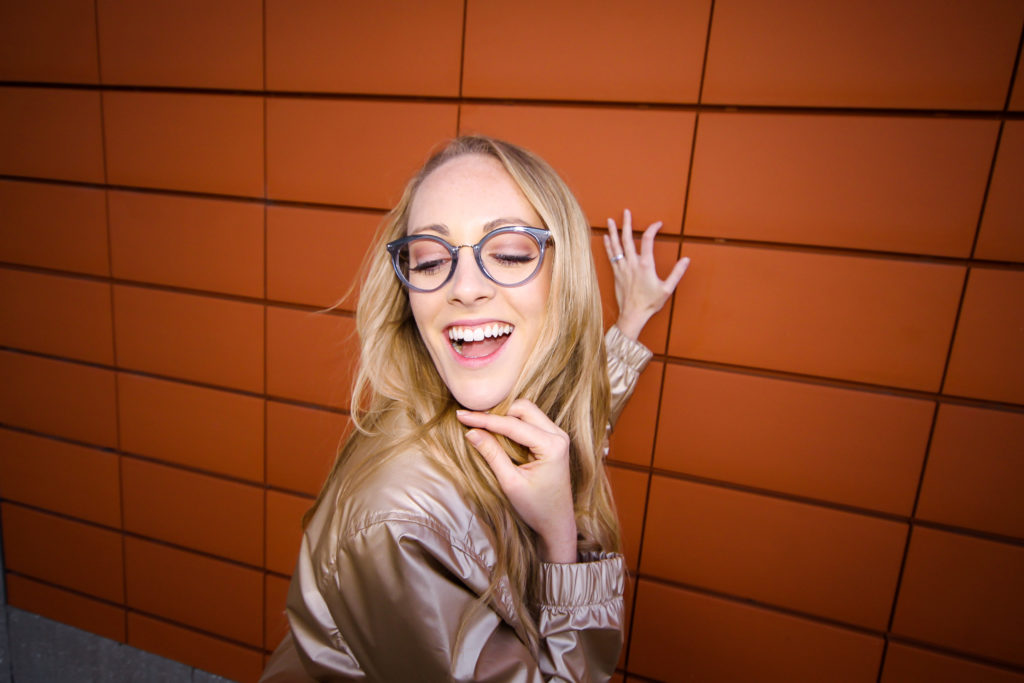 Thanks for following and reading beauts!