Aging is inevitable.  We cannot make time stand still and stay 22 forever.  Recently, I have been very aware of how to prevent my eyes from premature aging. Below you can read how you can too!
I scream, you scream, we all scream for EYE CREAM!
Just as you would moisturize your face, you need to use a special kind of concentrated moisture around the eye area or orbital bones.  Our eye area is delicate and will be more prone to dryness. With that said, it is best to use an eye cream day and night that will help lock the moisture in. Eye cream can also combat puffiness and dark circles which can be brought on by dryness.
Some experts say you can start using a delicate moisturizing eye cream as early as 20 years old. I started using eye cream at age 26.  It's all about prevention!
My ride or die eye cream is the Kiehl's Creamy Eye Treatment with Avocado.  The avocado oil has instant hydration benefits and is made up of all natural ingredients which also smell lush! I use it in the morning and night and it is safe to use under your makeup. It is also Ophthalmologist and Dermatologist Tested.
When applying eye cream, be careful not to pull or rub the skin around the eye area. Gently dab or tap it on with your ring finger.
This application technique goes for applying makeup under the eye area as well as makeup removal. Just remember not to tug on the skin and dabbing is best.  I love the beauty blender sponge for makeup application around the eye area. It is so gentle, easy to use and looks flawless.
When removing makeup around the eye area don't pull at the skin. If using a makeup removing wipe remember to dab and or use a Q-tip and roll away the residue product. I prefer Neutrogena's Oil Free Makeup Remover and a good ole fashion
Q-Tip.
Sunglasses! Sunglasses! Sunglasses!
The constant squinting you go through to hide your eyes from the bright sunlight will no doubt do damage over time. It can bring on crows feet and unwanted wrinkles around the eye area. Sunglasses do more than just protect the eyeball from things like premature cataracts and even a sunburn inside of your eye.
Always wear sunglasses!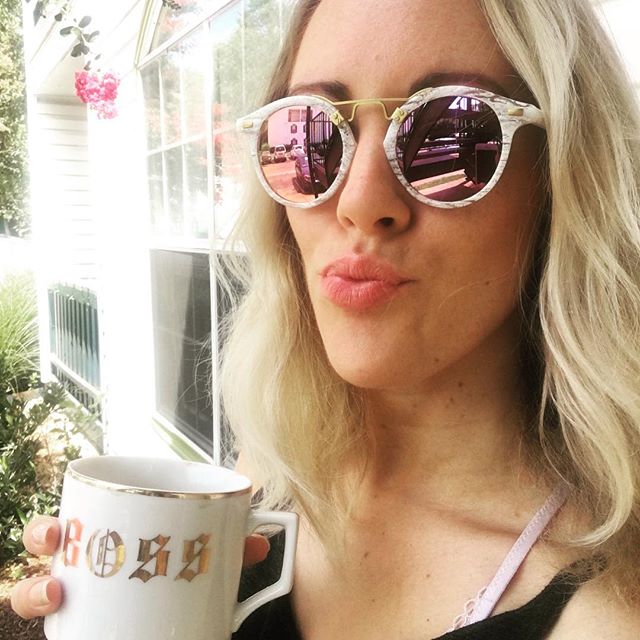 Wear sunglasses that ideally offer 100% UVA and UVB protection.  Polarized glasses have a filter built in that will knock out unwanted glare, so that will most definitely help with squinting.  Lens materials like polycarbonate, trivex, and high-index have 100% UVA and UVB protection. However, you still need that dark lens sunglasses offers to help with the visible light from the sun. Mirrored lenses also help reflect away the suns rays and you can put a mirror coating over a polarized lens!
I'm wearing the KREWE St. Louis in white linen with prescription polarized lenses.
Sunlight can also creep thru the top and sides of sunglasses too.  Wrap around sunglasses aren't everybody's style so you can also wear a hat to offer even more protection.
Squinting to see better while indoors can also cause premature wrinkles.  It's always best to get your eyes checked once a year by an Optometrist.
Squinting = Wrinkles
Take these steps to avoid both!